Clayborn Says "It's All BS"
September 13th, 2013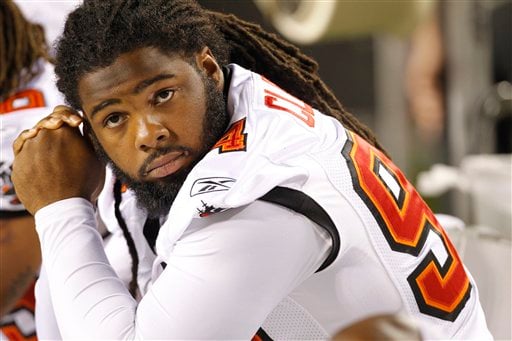 Cancel your newspaper subscriptions and start visiting CNN.com for fun. Perhaps take up knitting. Why enjoy and analyze Bucs coverage in the media? Adrian Clayborn says it's worthless.
Clayborn lashed out via Twitter this afternoon, seemingly perturbed by how the Bucs have been treated and covered in the wake of their ugly 18-17 loss to the Jets and this week's Josh Freeman Photogate.
@AJaClay – If I were bucs fans I wouldn't pick up a newspaper or read the Internet because its all BS.
Joe appreciates Clayborn's passion, but it's misguided.
Clayborn should be directing his disgust at the Bucs' 13 penalties, inept offense and allowing a rookie second-round-pick QB to rack up historic yardage and engineer a game-winning, Week 1 drive.
Would Clayborn like it if Bucs fans considered the Bucs' effort "all BS" and stopped buying tickets?
Yes, the local and national media very much embraced "Overreaction Monday." But the media hasn't been tossing out "all BS." The Bucs are very much in peril. Only a win will fix it.