Bucs Thinking About Managing Martin
September 5th, 2013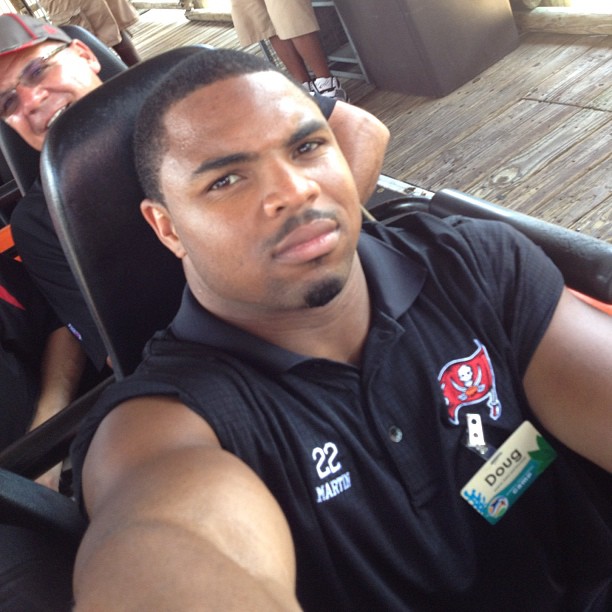 Joe does not think for a minute that the Bucs will be concerned about Doug Martin's workload early in the season.
Why exactly would the regime care in September? They need wins and confidence, and if riding Martin achieves that, then that's what the New Schiano Order will do.
But the Bucs are at least thinking about managing Martin's punishment, says offensive coordinator Mike Sullivan. It's a challenging task, given that everyone around the NFL considers Martin a true every-down superstar.
Yesterday, Joe asked Sullivan whether there's a plan for preserving Martin, and Sullivan said it's a work in progress that started in preseason with a goal of having Martin ready for January and (gasp!) February football.
"Well, [he] certainly wasn't overused in the preseason. Doug didn't get a whole lot of work. That's a valid question, and we're constantly [looking at] what a great player he is, not just carrying the football, but in his route running ability, catching the football, yards after the catch, protections, he's an every down back," Sullivan said. "That's where I think we're very fortunate where we have some of the depth that we have, as far as with [running back] Mike James and [running back] Brian Leonard and [running back] Peyton Hillis to go ahead and be a complement on first down, second down, as well as third down. So that's definitely a part of our thought process, because we want to have this guy that's going to last us throughout the year and into, hopefully, a season that gets us into January and February; that's what it's about. So that is a part of our thought process, but as of right now, we're just trying to do what we can to get the ball in his hands, because he's a playmaker. He's going to help us."
Greg Schiano loves having a "bell cow" back, and the Bucs shouldn't be worried about Martin. This is the time to use him. The window for coaches and players is small in the NFL.
The best time to rest Martin is when he says he needs it, or when it's apparent he needs it, or when a Bucs game appears to be decided.
Martin really shouldn't take one meaningless snap this season for the sake of padding stats or easing coaches' fears of disaster in an already decided game.