Underestimating Tom Crabtree
August 16th, 2013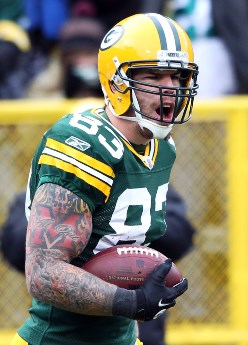 Aside from Bucs quarterbacks and defensive linemen, the position that makes Bucs fans twist and turn is tight end.
During this offseason, whenever a tight end's name recognizable from fantasy leagues popped up, fans wondered aloud whether rock star general manager Mark Dominik would lunge to sign said tight end.
In fans' minds, tight end is a critical position. In offensive coordinator Mike Sullivan's mind, it isn't. That is the key element here.
So when the Bucs signed Tom Crabtree, it was met with much head-scratching. Never mind Crabtree was buried on a depth chart behind one of the game's best tight ends, Jermichael Finley.
This subject was touched upon recently by the master numerologist of the stat-heavy ProFootballFocus.com outfit.
The "word on the street" is that Tom Crabtree has a shot to overtake Stocker at tight end, but that might not be too helpful even if it does happen. This could be a real area of concern with Freeman desperately needing an outlet valve underneath.
This isn't just word on the street. Joe would be shocked, barring an unforeseen trade or other roster move, that Crabtree doesn't start. He made his bones with the Packers as a crushing blocker. He did well with the rare opportunities he had to catch balls down the field. Well enough that the Bucs jumped on him when he was available.
For those who want the Bucs to get a high-flying tight end, consider that with Sullivan as the Giants receivers coach, Big Blue won a Super Bowl after their Pro Bowl tight end was injured.
Bucs franchise quarterback Josh Freeman, at a public outing this summer, was questioned about the Bucs getting a household name for a tight end, Freeman shrugged his shoulders and said the Bucs don't use a tight end much in Sullivan's offense so what's the point.
Luke Stocker, given his erratic play and injury troubles, simply is not reliable.