The Toe Felt Around Tampa Bay
August 6th, 2013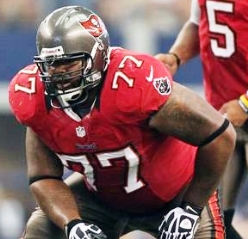 Fans took a deep breath at Bucs practice Monday morning, and it wasn't from the stifling heat (when the sun was out, it was easily the hottest practice of training camp). No, that deep breath was of relief. Carl Nicks was taking snaps in 11-on-11 drills.
But it seems the toe of Nicks, the turf toe, has Bucs fans worried, and maybe with some merit.
Woody Cummings of The Tampa Tribune was the first to report Nicks had his toe "heavily bandaged" when he reported for training camp. The Bucs and Nicks waved off the bandage, saying it was precautionary.
But Nicks has hardly practiced with the first team and Schiano hinted that the initial fears of Nicks' toe being an issue were valid, as Schiano talked about Nicks' toe Monday.  WDAE-AM 620 Bucs beat reporter Tom Krasniqi documented .
LG Carl Nicks (toe) saw more action in during team drills. Schiano says Nicks still feels some "discomfort" but that he's battling through it. That big toe bears watching
That sure doesn't sound like Nicks is healthy at all. This should be very concerning. Nicks has had many months for that toe to heal after surgery and before the Bucs play their first preseason game he is experiencing "discomfort." That's not reassuring.
The Bucs have a chance of having the best offensive line in the NFL to road grade the way for running back Doug Martin. A big part of that is banking on Nicks to return.
Joe can never remember when a toe was such a key part of the anatomy for Bucs fans.