Stars WIll See Sparce Action Thursday
August 7th, 2013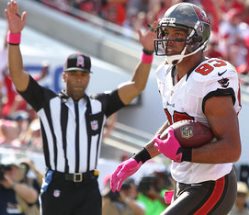 Fans going to Thursday night's game at the Stadium on Dale Mabry Highway, when the Bucs open preseason play against the Baltimore Crows, will see quite a bit of second-, third- and even fourth-team players.
Stars like Doug Martin, Gerald McCoy, Dashon Goldson or Vincent Jackson? They will get enough snaps in to break a sweat and not much else, Bucs coach Greg Schiano noted via WDAE-AM 620 Bucs reporter Tom Krasniqi.
Don't expect to see a whole lot of Doug Martin, Vincent Jackson or Gerald McCoy. With the rash of injuries taking place around the league, the Bucs will not put their star players at risk. Thursday's game will provide an opportunity for those fringe players who are trying to make the roster. "I want to see how some of the 2nd and 3rd and 4th team guys compete. How do they compete when the lights come on….Can they do what they've been doing out there [at training camp}? Can they do it in the stadium against another team? Those are the things that are important. And can they do it for a sustained period of time…can they stay focused for a 3-hour football game and stay in the game and not have a mental lapse," said Schiano.

Thursday's game is a lot more important for the likes of Rashaan Melvin, Steven Means and Chris Owusu. Players like them who have flashed during camp and are fighting for roster spots. The coaching staff wants to see it translate over to game action. Thursday night will be their opportunity to showcase their talents.
This is the smart way to go. Why the hell would you risk some of your best players in a glorified scrimmage? The important game to get ready for is Week One of the regular season in the New Jersey Swamplands.
If Joe were Schiano, the starters would play one series. That's it.