Schiano Says Bowers' Drive "Needs To Be Better"
August 6th, 2013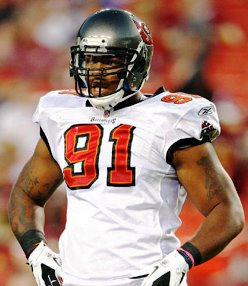 The Bucs have gambled big time on Da'Quan Bowers' ability to be a stout every-down defensive end.
In fact, Greg Schiano's on record expecting Bowers to record double-digit sacks. Asked about Bowers today after practice, Schiano said he wants No. 91 to play with more drive. It was clear that Schiano is somewhat disappointed in what he's seen from Bowers to date.
"I want to see him play hard, play after play, after play, after play," Schiano said.
Schiano went on to say Bowers has been performing "on and off" in training camp and Bowers playing hard in the every-down role "needs to be better."
The move from situational pass rusher to an every down player, Schiano said, is as challenging as transitioning in baseball from reliever to starting pitcher.
As Joe wrote last week, the Bucs have not been wowed by Bowers in training camp. That's not to say they're down on his ability, more like he's gotten a disappointing grade of C- versus the A- they might have been expecting.
For the Bucs to be a playoff team, they need high grades — consistently — from Bowers.