Revis Cautious About Week 1 Start
August 5th, 2013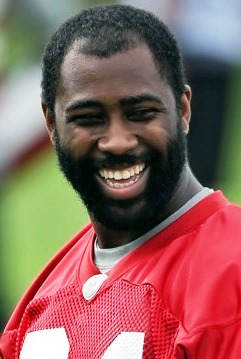 Three days prior to the Bucs' first preseason game and 34 days prior to the Bucs' opening day game at the New Jersey Swamplands against the Jets, star cornerback Darrelle Revis isn't ready to say, without hesitation, he will start when the Bucs face Gang Green.
"I think that's still too far down the road," Revis said after practice today. "Right now just going day by day, but that is the goal and we've talked about that. I want to be there, first day, first game, with my teammates.''
Revis has participated in drills and walkthroughs but has yet to face live bullets in 11-on-11 drills or scrimmages. Today when the Bucs were in their two-minute drill to close practice, Revis stood on the sideline, helmet in hand.
"I've been doing one on ones with a couple receivers and just getting back into it," Revis said. "I did some DB drills today, got back into a little bit, got aggressive, fell to the ground a few times. Just getting back into the football phase of hitting the ground hard and getting back up and just getting back in that mode. I'm reacting to the everything they're giving me. Just reacting and trying to cover the routes."
Olive oil-lapping, popcorn-munching, coffee-slurping, fried-chicken-eating, oatmeal-loving, circle-jerking, beer-chugging, cricket-watching, scone-loathing, college football-naïve, baseball box score-reading Peter King, of Sports Illustrated, NBC Sports and his new fancy, yet mostly tedious and stuffy website, theMMQB.com, interviewed rock star general manager Mark Dominik, who told King he is "almost certain'' Revis will start against the Jets.
"I don't care how great a player you have been,'' Greg Schiano told King. "Confidence is a funny thing. When you're talking about a guy as good as Darrelle, you don't think a guy needs to feel confident. But we just got [Pro Bowl guard] Carl Nicks back in live drills [from a serious 2012 toe injury], and he just stoned a defensive guy rushing hard. And you could see the weight of the world lifted off his shoulders. I mean, this is his livelihood. It's the same with Darrelle. He needs to know he'll be good when he gets into a game."
So the intrigue and drama continues.
Will Revis soon go full speed and make receivers pay to step on his island, or will Revis still be a man without an island come Sept. 8?