"Preseason Is Preseason"
August 29th, 2013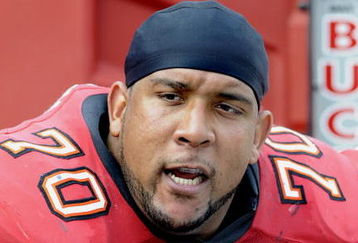 Bucs svelte left tackle Donald Penn is not one to hold back his opinions. So after the ugly loss by the second- and third-teamers to Washington's tonight, Penn wasn't exactly dancing in the locker room.
"Preseason is preseason," Penn said. As far as Penn was concerned, the foreplay of the NFL preseason was done. Finished. Over. Irrelevant. Matter of fact, the countdown clock to the start of the season in the New Jersey Swampalands had already begun ticking down for Penn.
"Preseason is over with," Penn said. "We are focused on the Jets. I was focused on the Jets today because I wasn't playing [Thursday]. I'm focused on the Jets. Preseason is the past. Looking forward to winning some games. I did some film study on my own [over the Jets] but I helped these guys out for the game today. Helped them out as much as I could, but we are getting ready for the Jets. Get ready for Jet Week.
"I'm excited to get it started. We feel fine. We feel great. We had a good week of practice. Getting everything started next week. Looking forward to it. Starting fresh tomorrow. I'm excited."