Notes From Bucs Practice No. 7
August 1st, 2013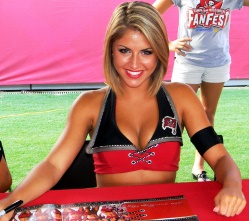 Here are some observations Joe had while watching Bucs practice No. 7 of training camp 2013. Joe has been to so many practices in so few days, he's lost track of the day of week. But it is fun.
* Revis is in pads but may as well be in a Speedo as he is standing on sidelines with during position-specific drills.
* There are many areas of concern for the Bucs. Running back not among them. Doug Martin very sharp.
* Leonard Johnson with very sticky, physical coverage on Kevin Ogletree.
* Revis, Nicks, Joseph all on field at once. Albeit walk-throughs.
* Revis is "covering" VJax.
* VJax drops perfect pass from JF5 on a comeback.
* JF5 on a rollout hits Mike Williams in the hands on a crossing pattern. JF5 is absolutely on point today.
* Nate Byham with a catch along left sideline. Freeman has steadily improved each of last three practices. Really sharp thus far today.
* Bucs rock star general manager Mark Dominik sits for about 20 minutes in the bleachers with the proletariat Bucs fans.
* JF5 hits Mike Williams in the numbers along right sideline.
* JF5 threads needle between Dashon Goldson and Ahmad Black to VJax for touchdown in back of end zone.
* Mike Williams with diving catch from Mike Glennon. Later, Rashaan Melvin breaks up pass for Derek Hagan.
* Najee Goode tips pass for Zach Miller in end zone.
* Johnthan Banks misses easy pick.
* Freeman may be as accurate today as Joe has ever seen him. Mike Williams? He's got a case of the dropsies today.
* Steven Means, playing RDE, flashing a little in backfield.
* Freeman bomb to Nate Byham along right sideline. "This Josh" needs to show up on Sundays. He is lights out accurate today.
* Freeman flushed left and hits tight end Tim Wright in the numbers.
* Even Mike Glennon throwing a bit better.
* Freeman over middle to VJax wide open and Freeman puts ball right in his breadbasket.
* Freeman has ball batted away by Steven Means and ball falls into hands of Doug Martin, who takes ball up left sideline for big gain.
* Freeman with a beautiful pass to Derek Hagan just off his hands down the right sideline but pass interference on Rashaan Melvin.
* Two-minute-drill time.
* Terrible snap from shotgun to JF5 and Means nearly has fumble recovery.
* Another JF5 bullet down the right sideline. Right. On. The. Numbers.
* MW19 on a comeback from JF5 right sideline. Not sure if Freeman has thrown a bad pass all morning.
* Don't know if Josh Freeman has had a better training camp practice. Today, he looks every bit the franchise QB the Bucs have always hoped for.
* Running out of words to describe JF5's accuracy today. If he plays like this on Sundays, Bucs offense could be downright scary.
* Another perfect pass. Joe had to shake his head a few times. JF5 is Brees-like today.
* Fake crowd noise!
* False start Gabe Carimi.
* Mike Glennon channels his inner Brett Favre by running right to avoid Means and throwing across the field to Nate Byham. You won't often get away with that when the live bullets are flying, son.
* Glennon to Chris Owusu who runs about 30 yards down right sideline for TD.
* Glennon to Williams' back shoulder in traffic for big gain