Nickel Needs In The Spotlight
August 24th, 2013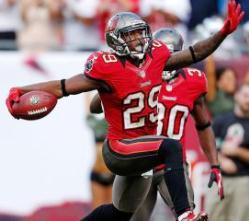 Greg Schiano talked this week about how you don't just plug a cornerback into the nickel position because he's not as good as a team's top two cornerbacks or is a liability on the outside.
It's a darn tough job, Schiano explained, and nickel requires diverse skills and mature awareness.
So who is the Bucs' nickel cornerback? It's a critical position, especially in the NFC South.
Ronde Barber is busy bashing Josh Freeman. Eric Wright is back in California where he belongs. Danny Gorrer has missed two weeks of practice with a blown groin. Rookie Johnthan Banks is learning the ropes on the outside in Darrelle Revis' absence.
Last year, the Bucs pulled Brandon McDonald off the street to be their nickel cornerback on opening day. He's now out of football at 27 years old. Veteran Michael Adams has plenty of experience at nickel in Arizona, and Leonard Johnson is a hard worker and has talent, but he has to develop and he's hardly the quickest guy on the block.
Joe will be watching the nickel position closely tonight. Sean Peyton and friends likely are keeping an eye on it, too.