Listen To The Bucs
August 5th, 2013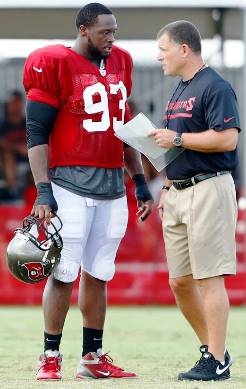 The Bucs began their third week of training camp today with Vincent Jackson putting on a show, Josh Freeman continuing to throw accurately and wide receiver Chris Owusu and cornerback Rashaan Melvin showing they belong on the final 53-man roster.
Joe's good friends at WDAE-AM 620 have all sorts of audio as usual. Cornerback Darrelle Revis talked about his continuing rehab, offensive tackle Donald Penn talked about the strength of the line, and rookie defensive tackle Steven Means talks about how he is adapting to the NFL.
And of course, there is the daily post-practice press conference by Bucs coach Greg Schiano.