Jeff Demps Situation Bleak
August 20th, 2013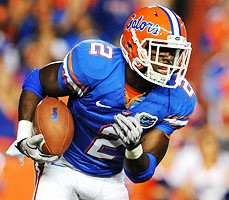 Joe knows there are many Gators fans who were of the belief that track star Jeff Demps, like Superman, would swoop in just as the regular season starts, not in football shape, and become the second coming of Devin Hester and lead the Bucs to double-digit wins by returning kickoffs. Well, said blue-and-orange sunglass wearers may go to bed hugging their pillows tonight.
Bucs commander Greg Schiano, when asked about Demps today during his daily post-practice press conference, seemed to let out a bit of frustration on the subject of this mysterious Demps arrival. It appeared to have touched a raw nerve.
In no uncertain terms, Schiano appeared irritated that Demps is not in training camp and all but suggested the experiment of a track star helping the Bucs (this season) is a long shot at best.
"(Sigh). I'm not, ah (pauses) — supposedly he's coming. I don't know. We'll see. I don't worry about guys that are not here, you know? So he's not helping us get better right now. He's out there running track somewhere. So, if he's going to do that — if he gets here and helps us win he will be part of it. If he gets here and can't help us win, he can go back and run track. We are here to win games."
Joe thought it was a borderline joke that a guy, clearly not in football shape, could waltz in on the cusp of the regular season and be handed a critical position on a football team all because he can run in a straight line really fast.
Such a stunt may have been embraced on the loose ship USS Raheem Morris, but under the disciplined ways of the New Schiano Order, it's borderline preposterous.
If Bill Belicheat thought Demps was an asset, Belicheat wouldn't have thrown Demps in as an afterthought at the last second in the LeGarrette Blount trade.