"It's A Put Up Or Shut Up Year"
August 21st, 2013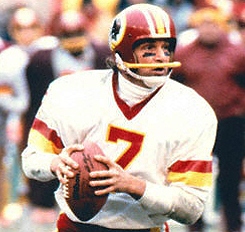 While Super Bowl-winning quarterback Joe Theismann hasn't played in as many Super Bowls as Josh Freeman critic Fran Tarkenton, Theismann has something Tarkenton does not: a ring.
Theismann stopped in to chat on the local airwaves on the Ron and Ian show on WDAE-AM 620 yesterday and was bullish on Freeman, but Theismann admits there can't be much more waiting around for him to develop.
"I think Josh can play, I believe he can play. I think it's a very critical year for him, and I'm hoping it becomes a Joe Flacco type story," Theisman said. "They're [Bucs] in a division that is as top heavy with New Orleans with Sean Payton back and of course Atlanta. This is not an easy road, but I believe the Tampa Bay Buccaneers of any team in the league have made great strides going forward. It's a put up or shut up year.

"There is no question that this is an important year [for Freeman]. You have a new coach who's continuing to evaluate you, and added weapons on the offensive side of the ball. The [quarterback] position is the most dependent position on the field. If you don't have any talent around you, you're dead in the water. This is a huge year for him. Huge year."
Joe has written this before but the way the Mike Glennon Mob has freaked out the past few days because Freeman had a few incompletions, it bears repeating:
Joe believes Freeman will have a better year this season; maybe his best. He is in the second year in a complex offense. He knows how to work with last year's newcomers Vincent Jackson and Doug Martin; and they him. He has all the toys. Now it's time to use them.
To hear the full interview with Theisman, click the arrow below. As always, audio courtesy of Joe's good friends at WDAE-AM 620.