How Will "Commander" Schiano Respond?
August 25th, 2013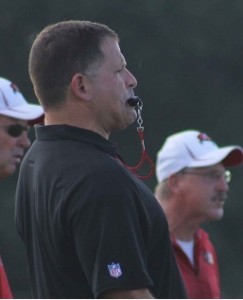 Jon [Gruden] demanded, you know, certain things out of his team. And Coach Schiano does the same thing, demands a way of doing things. And that's good for the football team. How they're different? That's tough to say. Jon was really just kind of an offensive-sided guy. Monte [Kiffin] was really the head coach on defense when Jon was here. But Coach Schiano really takes ownership on everything. I think he is as detailed a commander (laughs), that's a good way to put it, as I've been around. There's not an aspect of the game that he doesn't have a part of making a decision on, or at least, you know, influencing. That's just how he is. He's a detail oriented guy. He anticipates, everything that could happen in the game he's anticipated and is prepared for, whether it's offense, defense or special teams. That's just his manner. When you meet the guy, if you ever meet the guy, he'll talk to you and the way he comes across to you is like, 'Hey, I am on top of everything that I need to be on top of and I'm going to force my will on every situation because that's my job.' That's how he looks at it.- Ronde Barber, Nov. 27, 2012.
The quote above was one of the most insightful ever on Greg Schiano. And it's got Joe wondering this morning how the head coach will respond to his team not being sharp on offense or defense last night — and the week before.
Joe's heard Vincent Jackson and Mike Williams both talk recently about how the Bucs offense is light years ahead of where it was at this time last year. The problem is Joe's not seeing evidence of that, including from those two guys, who have been sloppy this preseason. And there are other issues; pass blocking comes to mind quickly.
Preseason is the time to make these mistakes. No problem. Make adjustments and be ready for opening day. But Joe's wondering how Schiano will approach righting his ship. Schiano's talked a lot about how he "trusts" his team now, versus last season. But will Schiano be patient and trust in the face of ball security issues, major breakdowns, and a noticeable lack of energy out of the gate for his team? Will Schiano crack the whip this week or take a different approach?
Last season, the Bucs collectively responded poorly to Schiano during their November-December, five-game losing streak. The head coach found a way to get back on track in a big way at Atlanta to close the season. Now Schiano is again off course. No matter how the state of the Bucs is characterized at this moment, there's no denying they're not where they want to be on Aug. 25.
Again, Schiano found a way to fix things for the season finale last year. The pressure on him has returned to do that for opening day. A matchup against the train-wreck Jets should help. A loss to the Jets would be unthinkable.