Freeman Says He'll Be "Far More Accurate"
August 12th, 2013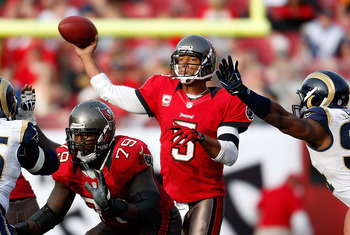 Josh Freeman has not been among the most accurate quarterbacks during his four years in the NFL. Freeman ranked 33rd in the NFL last season in completion percentage among quarterbacks with at least 100 attempts. During his glory season of 2010, Freeman ranked 19th.
The Bucs seemingly don't believe that has anything to do with Freeman's mechanics. In fact, new quarterback coach John McNulty made it very clear to Joe and other media that tweaking/teaching a veteran like Freeman mechanics is virtually worthless.
(Joe finds that to be a very short-sighted mindset and QB mechanics are not a detail that detail-obsessed regime should blow off).
McNulty said he's focusing on Freeman's advancement within in the offense so Freeman can be faster with his mind and feet and progress in that way.
The good news is that on Saturday Freeman explained to Zig Fracassi and Booger McFarland of SiriusXM NFL Radio why he should be "far more accurate" this season.
Freeman was asked what will make him better because he's in Year 2 of the Mike Sullivan offense.
"Terminology overall. When you hear a play you hear it and you see the concept and the protection and you see it all kind of as one picture. Rather than, 'Alright we've got this formation, we've got this concept over here, we've got this over here, we can work this versus this.'" Freeman said.

"And you just kind of see it [all at once]. And you can get there and shift the protection, drop back and throw the ball where you know you got to go with it. With that, your feet speed up. Your feet get exactly where they need to go, and [you're] far more accurate."
Joe has no doubt a second season under Sullivan will help Freeman improve. Clearly, his confidence is far ahead of where it was at this time last year. That can't hurt. But how Freeman performs under extreme pressure is what's under the most scrutiny. And much of how he responds is more about Freeman personally than anything else.