Eric Page Sharing Experience With Revis
August 2nd, 2013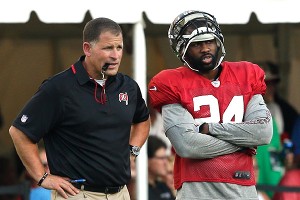 Wide receiver Eric Page is an intriguing wide receiver talent in Bucs camp. For those who attended practice today, he's the guy who made a diving, fingertip grab over the middle three plays before the close of the session.
Greg Schiano and rockstar general manager Mark Dominik have talked publicly about trying to snag Page as an undrafted free agent last year, but the Broncos snatched him up. Still just 21 years old, Page was a legend at the University of Toledo but tore his ACL in Broncos training camp.
Page's surgery was exactly one year ago, and his progression through the rehabilitation is something that has caught the interest of Darrelle Revis, who went under the knife for his blown ACL 9 1/2 months ago.
"Me and Darrelle talk a little bit. I'm a couple of months ahead of him [in rehab], so I've just been helping him out with what to expect. He's further along than I was at his stage, and he's going to be 100 percent when we need him. He works so hard. He's just a great leader to me," Page said.
Interesting to Joe is that Page, who has not been limited in training camp, says he's healthy but not 100 percent himself.
"I'm just getting my football legs under me. You know, getting used to pads. I still think I'm fresh. I've a got a lot to go, a lot more I can show," Page said.
The Bucs and everyone who bleeds pewter and red are banking on Revis being 100 percent in 37 days. Today, Revis had a scheduled day off, which means he was doing indoor training only.