Davin Joseph Trusts His Trainers
August 1st, 2013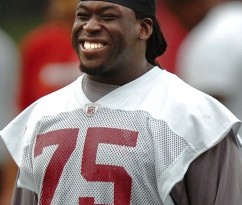 During the little bit Darrelle Revis was on the practice field "defending" Vincent Jackson last week, Joe could just tell how badly Revis wanted to go full-tilt.
Whenever Jackson came off the line, even though it was a walkthrough, Revis would do something physical to him, whether it was jousting for position with his hands or just flat out stiff-arming Jackson, you could just feel how badly Revis wanted to drill someone.
Revis, sadly, isn't the only one.
So too does Davin Joseph want to pancake a defender. The Bucs' Pro Bowl right guard has been out of action longer than Revis; Joseph also blew out his knee — in preseason last summer. Revis blew out his knee in Week 3 of the season.
Like Revis, Joseph is under a specific, personal rehab program where he is being eased back into action.
"I am still itching to get started with a full practice but I have to be patient," Joseph said. "It's a process to be ready for Week 1. You want to compete and get better but you also want to help the other guys get better also. Building that chemistry on the line is important.
"I trust and believe in the coaches that this process will be the best for me. [Feel like could do more] but I don't know if that is in my best benefit. That's why I listen to the coaches and the trainers and stick to the plan. Whatever they say I will do. I don't think I will miss the whole training camp."
While working out on the sidelines, Joseph has seen his offense go through the drills and is impressed, especially with Thursday's Josh Freeman Show.
"It looks to be scary good but we still have to put in the work," Joseph said of potential firepower of the offense. "On paper we look really, really, really good. But we have to put in the work. So, that's why we are to work hard and compete with one another to get each other better."