Chris Owusu's Stock Drops
August 8th, 2013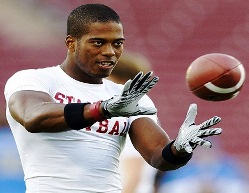 Asked this week on WDAE-AM 620 to name a guy shining in training camp, Greg Schiano named wide receiver Chris Owusu.
Owusu, who rarely played last season, had been a clear standout to all who watched practice, including Joe.
But things change fast in the NFL.
Tonight against the Ravens, Owusu fumbled a punt deep in Bucs territory. The Ravens recovered. Greg Schiano gave Owusu a pep talk and then later Owusu lined up as a kick returner. He proceeded to juggle that kickoff.
Later, Owusu dropped an easy first-down pass from Mike Glennon. There was no defender in the mix.
Ask Schiano what his No. 1 priority is, and the head coach will say "ball security."
Owusu has now thrown a whole lot of doubt into the organization's decision-makers. It's not like he's got a big resume to fall back on. He's got one career catch.
Owusu also failed to catch a ball that hit him in the chest, though pass interference was called on the play. And he later couldn't shake coverage from Ravens third-string cornerback Asa Jackson. Owusu finished the night with two catches for 48 yards, including a 41-yard bomb from Glennon at the final whistle of the first half.
And if things weren't bad enough for Owusu, he left the game with an ankle injury.