Belicheat Smitten With Doug Martin
August 14th, 2013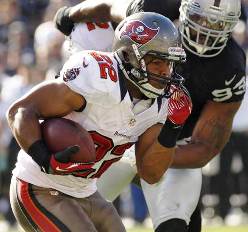 Yeah, yeah, yeah, Bill Belicheat and the Patriots got LeGarrette Blount. And the Bucs have Doug Martin. Who would you choose?
Sure, Blount is playing damned good ball for the Patriots. In preseason. Against guys who will be insurance claims adjusters in three weeks. The Bucs still have Martin.
To hear the lauded Patriots coach talk, he sure is fond of Martin, so he said after the Bucs-Patriots joint practices in raining New England, types Pat Yasinskas of ESPN.
"He's a good three-down player,'' Belichick told the media Tuesday. "There's really no reason for him to come off the field skill-wise. It's a question of how they want to manage him. He can run, he can catch, he's a tough kid. Good inside runner, good outside runner, can go the distance, handles the ball well in passing game; good on blitz pickup. Really, he can do it all.''
This is what makes the Bucs offense scary good. If Martin can get rolling, it opens up the entire offense because defenses will start cheating and then — boom! — Freeman fries the secondary with a bomb to Vincent Jackson or Mike Williams.
Just look at the games last year when Martin got loose. The Bucs offense was impressive.