Akeem Spence's Secret Skill
August 2nd, 2013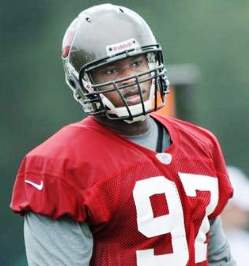 Joe believes there have been a handful of Bucs fans who have been thrown out of their local bars for slamming pints of beer and cussing out bartenders because the Bucs don't expect their tilted nose tackle to sack the quarterback.
Many fans don't understand, or don't want to understand, that the tilted nose tackle's two biggest responsiblities are clogging up the running lanes and taking on two or three blockers to enable Gerald McCoy to roam free, create havoc and get the every-popular penetration.
If a tilted nose tackle gets a sack, it usually means there has been a major breakdown in the opponent's offensive line's blocking.
Roy Miller was the epitome of the tilted nose. His replacement, rookie Akeem Spence, looks to be a Miller clone. But after a few practices with pads it appear Spence, too, may be able to sack the quarterback.
Bucs coach Greg Schiano noted in Thursday's post-practice press conference that Spence had shown an ability to put a quarterback down that he hadn't shown on tape from his days at Illinois. Schiano quickly noted Spence was never asked to be a pass rusher in college.
Spence himself talked about his quarterback hunting skills after practice today.
"Working one-on-ones, coach tells mehe knows I am quick," the ever-smiling Spence said. "So getting a quick first step and trying to beat the center to a point. Then throwing my weight in there. Those are things I always knew how to do but I never got a chance to do at Illinois. I had to do something else.
"Here, I've got a little more freedom so I have been working on my pass rush and learning that stuff. That is big. I have been working with Gerald (McCoy) on working on my hands. I had the ability to [rush the passer]; I never had the opportunity to do it. It is fun, rushing the passer, that is what will get you paid in the league. You know, just learning how to do that and learning to stunt, that is big. With my power and my speed, that is good for me. Cannot get better. I have shown my coaches that when the opportunity presents itself, I need to go out there and execute and do it."
As Spence pointed out, GMC has been a major help to him and Spence sort of looks up to GMC as a big brother.
"Gerald McCoy, he helps out a lot," Spence said. "I mean, he is a veteran guy. He's been through it. Had the struggles up and down. Through these last four days, we have had some tough practices and I have made some mistakes and [GMC] says, 'Forget it and move on.' With us young guys, we make a mistake and it drags down our whole day. Basically, what is done is over. You have to move on. [GMC brings] a comfort level out there knowing, they this guy has my back. That is big."
Spence also gets sage advice from pass rush coach Bryan Cox.
"Oh, Coach Cox, he is crazy," Spence said. "He is crazy but he is real and he is honest. That's what I like. We were practicing pass rushes and he said, 'Hey, that's a good move. That's a good move for you. Continue to do it and we will fix some fine points.' But when it is a bad move, he lets you know it is a bad move and don't you ever do it again. I like him."