Akeem Spence: Potential Steal
August 24th, 2013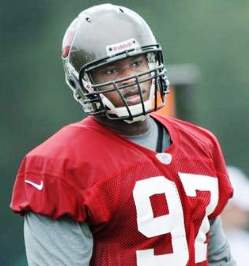 When Joe first learned that the Bucs were cutting loose Roy Miller, a fireplug of a nose tackle, Joe wondered why.
No, he never got to the quarterback. No, he couldn't chase down runners. But he did what he was supposed to do and that was take heat off Gerald McCoy which enabled McCoy to wreak havoc. Bucs insiders would rave to Joe about how effective Miller was and how invaluable he was. Then why let him walk?
Well, for one, he was damaged goods. Understandable. Now, Joe isn't worried one bit about Miller. Because his replacement is worlds better than him.
The Bucs drafted Akeem Spence out of Illinois in the fourth round and Joe vividly remembers Bucs fans moaning out loud about how the Bucs drafted a Big Ten player who didn't get sacks. Bucs rock star general manager Mark Dominik should be ashamed of himself, they said.
Well, even Spence surprised the Bucs. Strong as an Adonis, Spence started to show he could do more than just eat up blockers. He could rush the quarterback and run down ball carriers. He just wasn't asked to do that at Illinois. It was the Bucs' pleasant surprise.
Saturday at Joe Robbie Stadium, Spence had four tackles including two for a loss, one came when Spence ran to his right to drag down a Dolphins running back in the right flat, something you would never see Miller do.