"Wannstedt's Making It Real Simple"
July 30th, 2013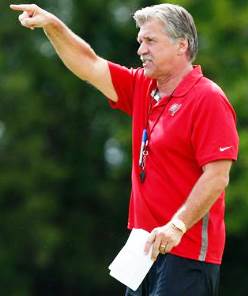 Year 2 of the Bucs offense under the New Schiano Order should bring more continuity, confidence and, subsequently, efficiency within the established system.
Year 2 of the Greg Schiano defense should bring the same.
Year 2 of special teams?
That's a different animal, says longtime Bucs special teams captain Adam Hayward.
"Now we need to go play football," Hayward told Joe. "Last year we kinda were trying to learn so many different things and when you're doing that you're thinking and you're not playing fast. This year [special teams coach Dave] Wannstedt is making it real simple. You know, 'This is what you gotta do. These are the way to beat the blocks and go make plays.' That's huge.
Is that the way it used to be around here, Adam?
"Definitely that's how it used to be. We kinda got away from that trying to do too much. And now we're back to the basics. There's only so much you can do in football on the return side and we're getting back to making it simple so we can go play."
The Bucs were not special on special teams last season, outside of leading the NFL in blocked punts, an obsession of Schiano. Last year's special teams staff was blown out and Wannstedt has taken over.
There's plenty of room for improvement.