Tommie Harris And The Bucs
July 23rd, 2013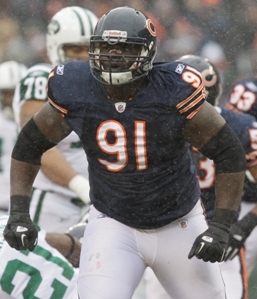 In a move that may signal the Bucs are not all that happy with depth at defensive tackle, the Bucs gave former Bears defensive tackle Tommie Harris a spin around the block this morning, so reports Pat Yasinskas of ESPN.com.
Why does this tell Joe the Bucs may not be happy with defensive tackle depth? Harris has been out of the league since 2011.
Most NFL teams don't normally bring veterans out of mothballs unless they are borderline desperate.
In 2011, Harris played his one and only season with San Diego racking up 13 tackles, all solo. Previous to 2011, the former 2004 first-round pick played seven seasons with the Bears.