Slow Closer: Josh Freeman
July 1st, 2013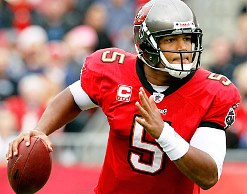 It's July and this is the month, with just over three weeks until the Bucs hold their first training camp practice, in which football fans are bombed with projections, predictions and why certain scribes think teams will stink and others will soar.
The numbers crunchers at Rotoworld.com are not exactly pulling a curvy Rachel Watson and leading cheers for the Bucs. The culprit for the Bucs' demise, so types Patrick Daugherty, is that he believes Josh Freeman is a low-rung, signalcaller in the NFL.
Slow Closer: Josh Freeman

Coach Greg Schiano is holding Freeman's feet to the fire this offseason, routinely putting him on blast while passing up multiple opportunities to guarantee him the starting job. Perhaps it's because Freeman fell apart down the stretch in 2012, tossing 10 interceptions to only six touchdowns over Tampa's final five games. Freeman averaged just 6.23 yards per attempt over his final 209 passes, which would have been the worst in the league if extrapolated over the entire season. That means Freeman must "prove it" in 2013, both to Schiano and fantasy owners.
Well, first off, the only fantasy Joe gives a damn about is the aforementioned buxom Ms. Watson showing up at Joe's front door, shivering from a Florida summer downpour looking for warmth and comforting.
Let Joe repeat this again: There is no quarterback controversy. Freeman is the Bucs' starter. Period. If fans want to debate Freeman's merits or drawbacks, that's a different animal. The braintrust at One Buc Palace unanimously calls Freeman the starting quarterback on opening day. Period. There is no debating this issue, short of Freeman getting injured.
Now does Freeman need to improve? Darn right he does. As Joe has also written, when the Bucs needed Freeman the most last year down the stretch, when a playoff berth was still in reach, Freeman vanished. That simply cannot happen again if Freeman expects to be franchised or re-signed by the Bucs. His 6-15 career record against winning teams doesn't cut it in the NFL.
No. 5 has all the toys any NFL quarterback could ask for. Now it's time to utilize those weapons. With a second season under Mike Sullivan and a second season with Vincent Jackson and Doug Martin, there is no reason not to expect Freeman to improve.