Schiano "F.A.M.I.L.Y." An Adjustment For Revis
July 26th, 2013
Greg Schiano wears a bracelet with the word "F.A.M.I.L.Y." on it. Bucs players have them, too.
It's the Barney-The-Dinosaur-style theme of the Bucs. Hell, it's even the cheer Schiano leads in the locker room.
This family concept is very new to Darrelle Revis, who took to Instagram this week to set a fan straight on the meaning of family. It was a real New York moment for Revis.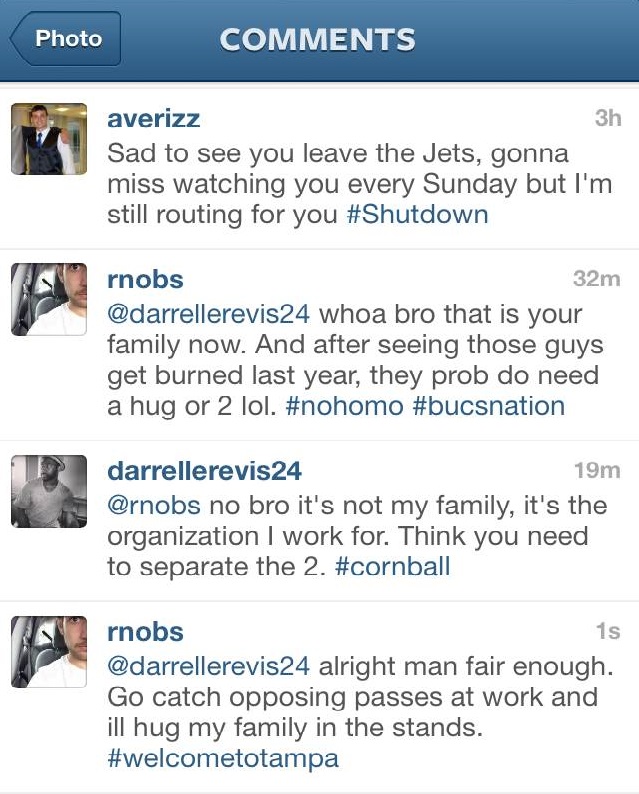 Joe gets that Revis might need to get acclimated a bit to the New Schiano Order and the college-like team spirit that is expected. Yesterday on NFL Network, Revis said in a positive manner that the family atmosphere with the Bucs is the greatest difference between the Bucs and his last employer, the New York Jets.
Revis is a leader, and Joe's confident that even if Revis doesn't believe in the semantics of "F.A.M.I.L.Y.", he does know how to be a great teammate and command respect — and roll with the "F.A.M.I.L.Y." vibe.