Notes From Day Two Of Training Camp
July 26th, 2013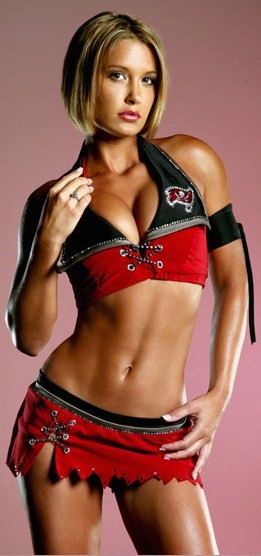 Here are sights and sounds Joe jotted down during practice of Day Two of Bucs training camp 2013 — in no particular order.
* Te'o bats down Orlovsky pass like JJ Watt.
* Mike Williams wide open over the middle, first down.
* Trickery: Mike Williams on an option on the left side would have been wiped out by Lavonte David.
* No one asked, but best player in Bucs camp after two practices? Mike Williams. Play after play after play he sticks out.
* Anthony Gaitor having a good practice. Just got a pass breakup of Vincent Jackson by jumping route along right sideline.
* Rashaan Melvin allows a short completion in front of him and Greg Schiano runs onto the field for some up close and personal coaching.
* Mason Foster dives to break up pass and grabbed his right hamstring. Got up but was limping. Seems to be OK, though.
*Mike Glennon overthrows Tiquan Underwood by five yards on a deep ball.
*Danny Noble flashes some good hands.
*Josh Freeman makes a bad throw to Mike James on a dumpoff pass. Out of synch?
* VJax big gain on crossing pattern to right. Think Joe J. vs Eagles.
* First team defense includes Darrelle Revis and Johnthan Banks.
* Revis strongarms Kevin Ogletree off line on walkthrough. LOVE his intensity.
* MYRON!: Welp. David Douglas burns Nine Lives Myron Lewis badly on a pass down right sideline. Who could have guessed?
* Hawk Goldson blitzes and bats down a Josh Freeman pass. Could have been a sack if there were live bullets flying.
* Johnthan Banks on Mike Williams like a second skin on a comeback route but Freeman's pass sails over everyone.
* Tiquan Underwood got away with a clip on Banks.
* Mike Glennon fans on a throw, ball came out as he began throw and crowd chants, "Rookie, rookie!"
* Kevin Ogletree and Nate Byham down after a pileup for a pass. Ogletree needed help getting up but walked off under his own power. Roughly 10 minutes later, he resumes practice.
* If there was hitting allowed, Hawk Goldson would have positively decleated Tom Crabtree on a short pass to right.
* Mike Williams goes all Michael Jordan, skying high to grab a Josh Freeman pass.
*Details! The Bucs have a drill that has defensive linemen catching passes from five yards away. Only drop was by camp-meat DT Matthew Masifilo.
* Revis jams VJax at the line … in a walkthrough! Next play up against Mike WIlliams, the play goes other way but Revis shadows Williams all the way back to line.
* Chris Owusu can't break free of Anthony Gaitor on a bomb down right sideline.
* Mike Glennon, Michael Adams does not like your passes. Pick-six along right sideline running across the field to the left for the score.
* Johnthan Banks jumps a route and picks Josh Freeman and the crowd roars. Next play Banks breaks up another pass. Crowd likes the rookie's play.
* During a pass play, Greg Schiano could be heard bellowing, "VISION, VISION!"
* Leonard Johnson would not let Nate Byham past him.
* Josh Freeman pass to Martin in left flat and Dekoda Watson all over the Muscle Hamster.
* Darrelle Revis steps onto the main field for first time and works with first team defense vs. first team offense. Crowd buzzes; all eyes on 24.
* Darrelle Revis getting physical in walk through vs. Tiquan Underwood. Dude is just chomping at the bit to drill someone.
* Darrelle Revis vs. Mike Williams in a walk-through and the two quickly got into a jousting match for position.
* Hearing quite a bit of talk from Bucs people about Rashaan Melvin but he hasn't shown much in practices (yet). Maybe he will in games?
* David Douglas uses his height to grab a ball over Anthony Gaitor.
*Vincent Jackson revved up the crowd with his hands. Wanted more intensity from the Bucs faithful.
* Tight end Zach Miller juggles the ball for two or three steps before it bounces off his fingertips.
* Mike Williams reaches over right shoulder of Johnthan Banks to haul in pass. Good coverage; better catch.
* Carlton Mitchell just blew past Revis along sideline. Had to double check it wasn't Myron.
* Beautiful over-the-shoulder catch by Kevin Ogletree. Jim Edmonds would applaud.
* Darrelle Revis working against VJax in WR drills on far field. Stuck on VJax like Velcro.
* Yesterday passing game was strong. Today, it is the run game.
* WTH? Already saw four Barrett Ruud jerseys this morning. People need to upgrade their wardrobes. Lavonte David perhaps?