News And Notes From Day 5 Practice
July 29th, 2013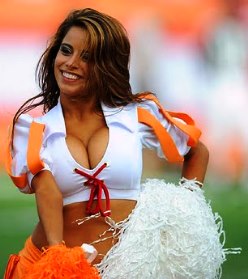 Here are some items of interest Joe jotted down while watching Day 5 of Bucs training camp 2013.
* Greg Schiano: "We've got pads on for a reason, LET'S GO!"
* Mike Williams drops a punt and Schiano moans. "Michael, Michael, Michael." (Think: "Marcia, Marcia, Marcia!")
* Lavonte David impressive tackle for loss.
* Ahmad Black on blitz from left blew up a run play in backfield.
* Peyton Hillis big gain up left side.
* Mike James finds a seal off right tackle and is untouched for massive run.
* Keith Tandy breaks up bomb from Freeman.
* Te'o wraps up Mike James for loss.
* Tom Crabtree bobbles screen but recovers for short gain up middle.
* Freeman under lot of pressure. Gerald McCoy, Mason Foster and Mike Adams would have had sacks on separate plays if hitting QBs allowed.
* Joe has been on Chris Owusu train since OTAs. His practice tape will make him hard to turn loose.
* Johnthan Banks covering VJax and lucked out as VJax has ball bounce off shoulder pads.
* Mike Glennon with nice pass to left sideline for TE Tim Wright but better coverage by Anthony Gaitor to break up pass.
* Josh Freeman threads needle down middle for VJax.
* Freeman to a diving Chris Owusu down right sideline.
* RBs are dropping a lot of screens in backfield.
* Derek Hagan fights Branden Smith for a Glennon pass deep down left sideline.
* Johnthan Banks, through five practices, has shown no reason why he won't start Week 1 vs. Jets, though Leonard Johnson is nipping at his ankles.
* Remember Freeman laser to VJax at Carolina? Just re-enacted.
* Mike Glennon scrambles right for a short touchdown just inside the pylon. Cody Grimm could have layed him out but, of course, Glennon was wearing the troublesome green quarterbacks jersey.
* Fake crowd noise!
* Freeman to Chris Owusu. Later Rashaan Melvin breaks up pass.
* Chris Owusu getting a lotta work w/first team today.
* Freeman bounces a pass to Owusu.
* Freeman comes right back with great zip on a completion to Owusu. Great throw.
* Danny Noble drops an easy dump-off pass from Glennon.
* Mark Barron looked a little gassed in the broiling sun late in practice.
* Derek Hagan, don't stop your route in 7-on-7 drills.
* Near pick of Freeman by Dashon Goldson in 7-on-7.
* Rookie cornerback hopeful Rashaan Melvin with a nice pass breakup covering David Douglas.
* WR Bobby Sewall fumbles in catch-strip drill. Coaches doing the stripping.
* Melvin with excellent coverage on Mike Williams in 2-minute drill.
* Kevin Ogletree misses a catchable pass, albeit a touch grab.
* Another great Freeman throw to Owusu — in traffic from JF5.
* False start on the offense in 2-minute drill, right side of line.
* Holding: Demar Dotson on Lavonte David in 2-minute offense. Zebras missed it.
* Adrian Clayborn would have clobbered Josh Freeman if sacks allowed. Clayborn clapped his hands in frustration that he had to pull up.
* Chris Owuso looked to have a bomb from JF5 but ruled out. Lavonte David with major heat on JF5.