Listen To Bryan Glazer
July 29th, 2013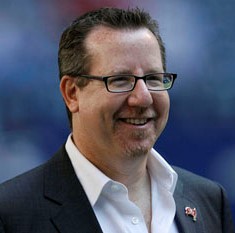 Bucs co-chairman Bryan Glazer took time before the Saturday night practice at the Stadium on Dale Mabry Highway for a somewhat rare interview with the Bucs pen and mic club.
Among the things Glazer spoke about were the likelihood of fewer blacked out games, Mark Dominik's job performance, ticket sales, and the enthusiasm the community has for the 2013 Bucs season and beyond, and other Bucs-related subjects.
Audio courtesy of Joe's good friends at WDAE-AM 620.