How Josh Freeman Will Improve
July 31st, 2013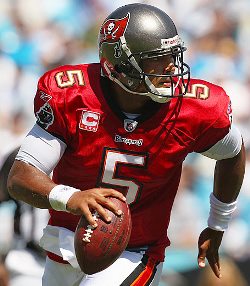 Joe tries to be objective when it comes to Bucs quarterback Josh Freeman. Joe sees the measurables, sees him rifle lasers through traffic to Vincent Jackson, sees him (not enough) scramble to create plays, and they make Joe smile.
Then Joe sees the irritating rollercoaster of inconsistency and cringeworthy melting down under pressure, and Joe wonders if Freeman can ever turn the corner.
Joe points to the Denver game last season. The Bucs defense may have played it's best half of football all season, bottling up Peyton Manning in the first half. Holding a scant halftime lead, Denver coach John Fox brought the house on Freeman, and Freeman wilted and vanished with a chance to pull off a major upset and keep the team in playoff contention.
Yes, quarterbacks are supposed to struggle under pressure. But the cream of the crop of quarterbacks rise above the fray. If Freeman is able to get the Bucs to the playoffs, you don't think he will face pressure from opposing defenses then?
Steve Palazzolo of ProFootballFocus.com decided to crunch some Freeman numbers and under heat from a defense, Palazzolo revealed chilling data on the Bucs' signalcaller.
Tampa Bay fans are still wondering if Freeman is truly their long-term answer, but on the glass-half full side, go to our AFC North Pressure Profiles and check out Super Bowl-winning quarterback Joe Flacco. Freeman's pressure numbers are eerily similar and perhaps a good sign that he's at least capable of leading the Bucs to the playoffs and beyond. In glass-half empty news, only three quarterbacks have graded worse than Freeman's -46.3 when pressured, so he likely has to show some improvement in that area to take the next step. Freeman's only positive grade comes from left guard pressure while he's particularly poor when under heat from left tackle and right guard.
So now Joe will play glass half-full. Palazzolo's informtion is from Freeman of 2012. What was missing most of the season? Carl Nicks and Davin Joseph. So with those two upright and healthy (Joe hopes), this will help keep defenses off Freeman and also help keep Freeman's jersey clean.
That alone should improve Freeman's numbers from last year.