Freeman No. 1 Free Agent In 2014?
July 26th, 2013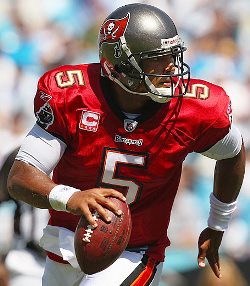 Yes, there is a lot of pressure on Bucs quarterback Josh Freeman this season. First, there are the big expectations. Then there is his contract expiring at the end of the season. And not so trivial, it's the pressure from fans, many disgusted by his yo-yo play, who are demanding perfection.
This is not lost on prickly Pete Prisco of CBSSports.com. He believes Bucs fans have been unfair to Freeman and seem to want to run him out of town. In fact, Prisco goes so far as to declare that if Freeman hits the free agent market, no player will be as sought after as much as Freeman would be.
@PriscoCBS: Spent time with Josh Freeman today. Why isn't he more appreciated in Tampa? If he hits the market in 2014, he is No. 1 FA.
Now Joe's not going that far as to suggest Freeman would be the most sought-after free agent, provided the Bucs don't re-sign him or franchise him. He's not Reggie White. Joe can think of at least eight NFC teams who have no need for Freeman as they have their own franchise quarterback.
Unless Freeman completely melts down, Joe cannot see Bucs rock star genearl manager Mark Dominik letting Freeman get away.