Fighting Fire With Fire
July 10th, 2013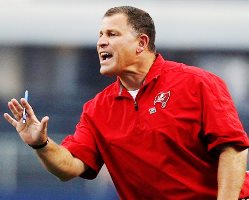 Those who don't think the Bucs play in a tough NFC South has either been too drunk to watch football or is an NFC East acolyte. Year in and year out the NFC East is the most overrated and grossly over-hyped division in the NFL.
You have Matty Ice and the Dixie Chicks, as loaded an offense as there is in the NFL. Then you have lethal Drew Brees, as dangerous of a gunslinger as there has been since Dan Marino. Then there is Cam Newton who, potentially, is no less than explosive with both his arm and his legs.
So how does Bucs coach Greg Schiano hope to keep the Bucs with their heads above the water in the division? You attack them the same way they will attack you, he seemed to say in a recent NFL.com podcast. You go after them with your own weapons.
Dave Damshek: It seems like the way you built your defense and with Doug Marin there, it seems you are trying to shorten the games. Is that the proper approach when facing those high-powered offenses?

Greg Schiano: You know, maybe at the beginning. But our offense is pretty high-powered as well. What I am hoping for is this year, for Josh [Freeman] being in the second year in the system for his second go-around with the emergence of Doug Martin, with Vincent Jackson on the outside along with Mike Williams, we have some threats, too. So we will have some different tempos on offense occasionally, which I think will give us a chance to expose some things on our opponents' defense. Looking forward to being able to pull that off and then slow the game down when we want to.
It's an interesting thought and not exactly illogical, either. The Bucs are loaded with aerial talent: Jackson, Williams and potentially, Freeman. Why not use those tools to your advantage?
Of course, this doesn't mean Schiano or the Bucs will ignore the run. If you have a road grader line and a running back like Martin, if an opponent is soft on the run, pound them till they beg for their mother.
In other words, the Bucs offense is flexible enough to attack a defense in multiple ways. At least, that would be a wise move.