Chris Owusu Beginning To Separate
July 29th, 2013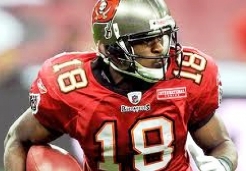 Each and every Bucs training camp practice seems to have a star. One day it is Johnthan Banks, the next day it is Doug Martin, another day it is Mike Williams. Today, on offense, one could argue the star was wide receiver Chris Owusu.
The speedster from Stanford should not be a stranger for regular readers of Joe. Owusu has been shining ever since OTAs this spring, and Joe has documented this, and talked up Owusu with his good friend, "The Big Dog," Steve Duemig, on WDAE-AM 620.
Playing behind Kevin Ogletree and Tiquan Underwood on the imaginary depth chart, Owusu didn't often practice that much or play with the first string offense with Josh Freeman throw him passes. That all changed today.
Owusu got significant practice time with the first team and he did not disappoint. He caught ball after ball against the first team defense and made a large statement not only about making the final roster cut of 53, but perhaps being in the mix for the No. 3 receiver gig.
"It was fun to go out there and compete," Owusu said. "You have to make the most of your opportunities or someone else will take it. There is incredible depth. But you can't look at it that way. You have to go out there and do your best."
While Bucs coach Greg Schiano was understandably guarded with his praise of Owusu, he admitted he's a different player than in 2012.
"He is getting better," Schiano said. "We will see. He hasn't played in a game. Certainly, a better player than he was last year. He has improved."
The way Owusu has played in OTAs, minicamp and continued to make plays in training camp, Joe's of the belief unless he totally tanks in preseason games, Owusu is going to be a very hard player to let loose.
"The defensive backs are challenging me," Owusu said. "There are some good cornerbacks out there."
If nothing else, Owusu's rise is adding intrigue to the race for the No. 3 receiver position. Audio courtesy of WDAE-AM 620.