Bullish On The Bucs
July 23rd, 2013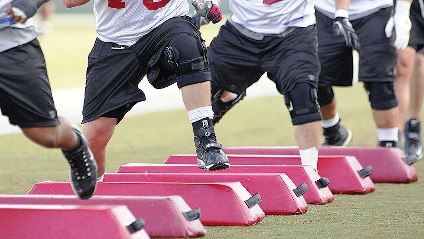 It's easy to see why Bucs fans are geeked about the coming season. When you have newcomers like Batman and Robin added to current stalwarts Lavonte David, Gerald McCoy, Vincent Jackson, Doug Martin and Mike Williams, it's been a while since the Bucs have had so much star power.
This has even caught the eye of eye-RAH! Kaufman of The Tampa Tribune. When he appeared on "The Opening Drive," co-hosted by Bob Papa and Amani Toomer last week, Kaufman admitted it's been quite a while since he's seen a Bucs team with this much talent.
"They have a very exciting team. They have eight guys on this roster who have been to the Pro Bowl – eight! Not many teams can match that. And they are all like 27 years-old. This team is ready to win. Rebuilding is over. They are laying in the weeds and I don't think Greg Schiano minds being under the radar now.

"I think Revis will fix a lot of their secondary problems – not all of them, but a lot of them. You can do a lot of things when you have a guy like Darrelle Revis on your side. It is up to Bill Sheridan to be creative otherwise his job will be in jeopardy.

"I just think this is a good football team with weapons up and down the line. I haven't been this excited about a Bucs team in 10 years."
There are reason for optimism, as well as doubt. Can the Bucs finally break through, put the Dixie Chicks and Saints on the canvas and win the division? That's a helluva tall order.
Then there is the NFC West, arguably the best division in the NFL.
The road that leads to answers of all Bucs questions opens in roughly 48 hours. That's when the Bucs hit the practice fields at One Buc Palace as training camp, and indirectly the football season, starts anew.