Big Step Forward For Mark Barron?
July 13th, 2013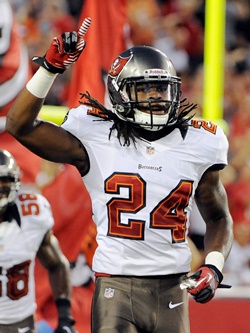 The other day, Joe was driving down the road and noticed a woman picking up the waste from walking her dog and it reminded Joe of the Bucs secondary in 2012. In other words, Greg Schiano and Bucs rock star general manager Mark Dominik had a lot of picking up to do with Publix grocery bags from the droppings left by their cornerbacks.
It wasn't the safties who left feces on the field at the Stadium on Dale Mabry Highway; it was the corners. So Dominik went out and refurbished the secondary, and playing with new, talented blood should help out second-year safety Mark Barron, so writes NFC South blogger Pat Yasinskas writes in a recent chat.
Marlon (Decatur, GA)

Hey Pat…Big Bucs fan here…who is helped the most by the presence of Revis on defense in the secondary? I say Barron…

Pat Yasinskas

I'd tend to agree with you. Think the arrival of Revis and Goldson will allow Barron to be more of an in-the-box safety, which is where he's at his best.
Not just that, but there are other, perhaps hidden benefits for Barron.
Yes, with Ronde Barber playing a more in-the-box safety last year, Barron often landed in center field, not necessarily his strength. Now Darrelle Revis (if healthy) can take care of damned near a third of the field, so the Bucs can shade coverage to the opposite side of the field to not only help Barron but also the other starting cornerback, possibly rookie Johnthan Banks.
Joe also believes Barron hit the rookie wall last year. Given some NFL experience under his belt and loads of help surrounding him, Joe expects Barron to make a big leap this season.
Joe doubts you will see Dominik or Schiano walking the sidelines of the Stadium of Dale Mabry Highway with handfuls of Publix grocery bags after the secondary comes off the field this fall.