Bennett Loss Doesn't Sit Well With Jeff Faine
July 2nd, 2013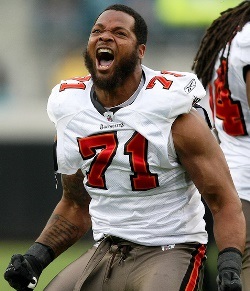 Union-first Jeff Faine, the former Bucs captain and center who tried to sell fans that NFL players would be driven to eating Saltines and anchovies as a result of the 2011 lockout, still keeps close tabs on the Bucs.
Yesterday, Faine told JP Peterson of WDAE-AM 620 that he was in touch with Josh Freeman this week and remains connected to his buddies on the team.
Peterson hit Faine with all kinds of questions on the New Schiano Order Bucs, and Faine was upbeat about most things Bucs, including Freeman.
But Faine was down on the loss of Michael Bennett.
"I think it was a big mistake letting Michael Bennett get out of there," Faine said. He's a guy that I believe that's very, very, as highly rated as he is within Tampa, leaguewide I think he's a very, very underrated player."
Yes, Bennett was damaged goods with a bad shoulder. But recent word out of Seattle (Bennett's new team) says Bennett played all of last season with the injury and should be as good or better this season.
Regardless, the Bucs made a judgment call letting Bennett's nine sacks and run-stuffing prowess walk, banking on DaQuan Bowers and rather flimsy DE depth. It's a call that will be scrutinized all season long.