Why Bears Soured On Gabe Carimi
June 13th, 2013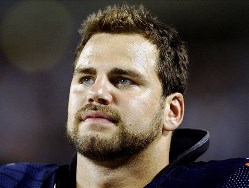 It's pretty sad, no matter the player, when said player is atop his game, winning an award given to the best at his position as a senior in college and only two years is given away by the team that drafted him in the first round.
That's what happened with Bucs offensive lineman Gabe Carimi, who the Bears gave away, figuratively, for a sixth round pick this week.
Former Bears beat writer and current National Football Post columnist Dan Pompei detailed why the Bears washed their hands of Carimi. The reasons were mostly health-related.
•In his second NFL game, Sept. 18, 2011, Carimi suffered an unusual injury. He dislocated his right knee, which previously had been dislocated, and he suffered anterior cruciate damage. Treating it would not be routine.

•Carimi lost weight in an attempt to put less stress on his knee, and in the process he lost strength. He went from about 315 pounds to about 300 pounds last offseason. Even after he started to move well around halfway through the 2012 season, he still was missing the strength that had been one of his defining traits. Early last season, Carimi still wasn't moving well, and he got off to a poor start.

•Carimi failed to take advantage of a chance to prove himself to a new coaching staff this spring. In his absence, they moved on.
Hopefully, the Bucs' medical staff, which is believed to be among the best in the NFL, and Carimi's old position coach at Wisconsin, Bucs' offensive line coach Bob Bostad, can turn Carimi's career around.
Carimi's knee problems are why Joe shakes his head when fans are quick to dismiss knee injuries pointing to Adrian Peterson's miracle recovery as the new norm.
It's not. Knee injuries are not as simple as ingrown toenail procedures. They are complex and still tricky operations.