What Do Cadillac, Winslow and Goldson Share?
June 20th, 2013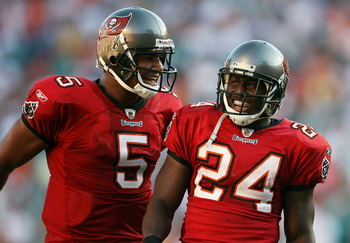 When one thinks of Buccaneers of recent years who are in love with the game of football, Kellen Winslow does not come to mind. The guy loathed blocking, pouted when a teammate scored a touchdown, and didn't want his "toes on the line."
But per Josh Freeman, Winslow was a standout for his pure love of the game.
Today, Freeman talked about how he has gotten to know new Bucs All-Pro safety Dashon Goldson and has been blown away by how deeply Goldson loves football. Freeman said Cadillac Williams and Winslow were past Buccaneers whose football might rival Goldson's, so Freeman explained on the Ron and Ian show on WDAE-AM 620 this morning.
"Talking to [Goldson] about football, it kind of takes you back to, really, little league, just the love of the game, the love of going out and go hitting people," Freeman said. "He's an old school guy, but he brings it, man, like every day in practice. Every day and night."
Joe's most pleased to hear this from Freeman because Joe knows the young Bucs cornerbacks are surely experiencing the same vibe from Goldson, and more. That can only help rookie Johnthan Banks and friends develop great work habits.