Walter Football: Bucs 5-11 In 2013
June 29th, 2013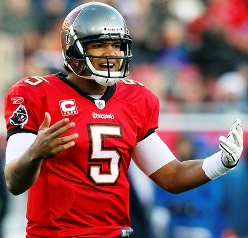 It is June 29, less than a month before the Bucs hold their first training camp practice. There's a long way to go.
But the football thinktank at WalterFootball.com already has put out its detailed team previews and they are not kind to the Bucs. In short, the Water Football crowd is no fan of Josh Freeman and is of the opinion that Freeman will continue to regress and, therefore, the Bucs will regress to a 5-11 season this year.
Josh Freeman will almost certainly be the starting quarterback for the Buccaneers this season, but he probably won't be holding that title much longer. The organization, particularly head coach Greg Schiano, has lost faith in him. There's a reason they spent a third-round pick on Mike Glennon. Unless Freeman rebounds with a strong 2013 campaign, he'll be allowed to walk as a free agent next spring.

Freeman was on fire at the beginning of this past season. He held a 18-to-5 touchdown-to-interception ratio in his first nine games. However, things quickly fell apart after that. He had just two scores compared to 10 turnovers (nine picks, one lost fumble) in his final three contests. Throughout all of December, Freeman maintained a YPA of 6.3 or worse in all but one game. It's amazing how much Freeman managed to regress in just a couple of months. If this were only a 1-year thing, it wouldn't be a big deal, but Freeman's accuracy has been pretty brutal ever since getting separated from former offensive coordinator Greg Olson.

2013 Tampa Bay Buccaneers Analysis: The Buccaneers will continue to be the worst team in the NFC South as long as they're the only franchise in the division that doesn't have its quarterback situation figured out. Josh Freeman has just one more chance to turn things around, but things aren't very optimistic in that regard.

Projection: 5-11 (4th in NFC South)
Joe can't see the Bucs going backwards that badly, but if they do, it will probably be because Freeman has completely imploded. Now Joe is on record being cautious of the Bucs playing in the postseason. It's not because Joe doesn't think the Bucs are improved — they are — but because the NFC is as top-heavy as Joe has seen it in maybe 25 years.
On paper, it appears the best chance the Bucs have of a playoff berth is to win the division. Joe's not ready to go there yet.
But if the Walter Football people are convinced Freeman and the Bucs will take that much of a step backward, it's a good bet Bucs rock star general manager Mark Dominik and coach Greg Schiano will be quarterback shopping in February.