The Jackson-Williams Bond
June 20th, 2013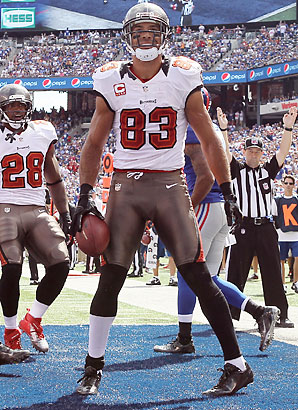 When Bucs rock star general manager Mark Dominik landed the big fish of wide receiver free agents last offseason, Vincent Jackson, the transaction wasn't just to have him haul in bombs from Josh Freeman.
No, Dominik wanted Jackson to be a leader, to take young receivers under his wing and show them all of the off-field work it takes to be a solid player.
Not only did Jackson jump at the chance to do just that, fellow wide receiver Mike Williams was more than open-minded and the two quickly developed a bond.
Per the Sports SportsXChange, the way the two grew together is why Williams is on the cusp of stardom himself.
"I see the changes in Mike over the last year," Bucs coach Greg Schiano said. "Mike is becoming such a more seasoned pro. Mike always had the passion for the game, way back from when I knew him when he was at Syracuse. I mean, this kid loves to play football. But all the little things about being a pro, I think Vincent (Jackson) has brought that into the room and certainly for Mike and for all those guys."
Joe has a hunch; the same thing is happening on the defensive side of the ball. Dominik also signed safety Dashon Goldson and traded for star corner Darrelle Revis to mentor the younger corners.
And both have jumped into that pool both enthusiastically and with both feet. Joe believes they'll rub off on the young corners the way Jackson did on Williams.