The Biggest Upgrade
June 24th, 2013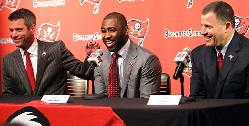 From worst to first. Those are magical words in sports rarely experienced.
But the Bucs have seen their share of worst-to-first magic. The Bucs won the NFC Central division in 1979, and NFC South titles in 2005 and 2007, after last place finishes. And the New Schiano Order's No. 1 ranked run defense last season was a complete about face from Raheem Morris' league-worst run defense in 2011.
In a breakdown of units that could be the NFL's best in 2013, NFL.com's Chris Wesseling believes the Bucs' secondary could be the NFL's best, a complete 180 from the historic mess of last season.
If Revis' recovery from knee surgery goes half as smoothly as those of Adrian Peterson and Robert Griffin III, the Bucs will have the league's premier lockdown cornerback to go with veteran Eric Wright and ball-hawking second-round draft pick Johnthan Banks. Pairing Goldson with the hard-hitting Mark Barron gives the Bucs a safety tandem with the potential to rival the Seattle Seahawks' Earl Thomas and Kam Chancellor as the NFL's best. A pass defense that ranked dead last in 2012 could be one of the league's stingiest in 2013.
But as SiriusXM NFL Radio's Pat Kirwan has preached loudly of late, for the secondary to truly be the NFL's best, the front line needs to get heat on the quarterback.
That is a great mystery for the Bucs this season.