Source: Bucs Trade For Gabe Carimi
June 9th, 2013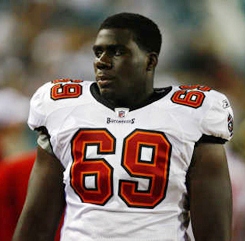 UPDATED 9:05 p.m. Perhaps all the recent Demar Dotson "catapulting" love comes with an asterisk.
Per the Chicago Sun Times, the Bucs have traded with the Bears for right tackle/right guard Gabe Carimi, a former first-round pick out of Wisconsin. BSPN claims the Bucs coughed up a sixth-round pick in 2014.
The Bears selected Carimi out of Wisconsin with the 29th overall selection in the 2011 draft. He was expected to be the Bears' long-term solution at right tackle, but injuries derailed that.

Carimi started 10 games at right tackle last season and three at right guard. But despite all the playing time, he was never healthy after dislocating his right knee cap in Week 2 of the 2011 season and needing multiple surgeries.

Carimi did attend the Bears' voluntary minicamp in April, saying that his main goal this offseason was getting back to 100 percent. He has been working with trainer LeCharles Bentley, a two-time Pro Bowl offensive lineman, in Arizona.
Of course, Joe (and everyone else) needs official confirmation of what the Bucs dealt for Carimi to assess the move — and Carimi has to pass a physical.
Carimi is scheduled to earn $1,016,458 in 2013, per Rotoworld.com.
All we can say now is that the Bucs have added an injured yet talented tackle/guard to their talent-laden offensive line. And Dotson just got some serious competition if Carimi can get healthy.