Simeon Rice Thanks Sapp; Slaps Tiki
June 27th, 2013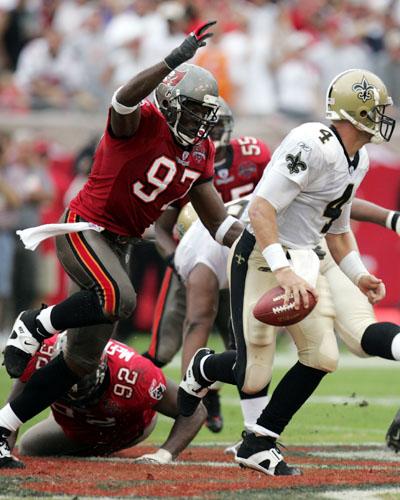 The controversy stirred up by intern-loving, former Giants disgruntled running back and fallen media mogul Tiki Barber's statement that Warren Sapp is "an idiot" for saying former Bucs defensive end Simeon Rice has just as much if not a better resume for the Pro Football Hall of Fame than former Giants Michael Strahan continues.
This time, it is Rice who is talking on the record. Still giddy off his Chicago Blackhawks winning the Stanley Cup, Rice spoke with Booger McFarland, co-host of the "Booger and Rich Show," heard on WHFS-FM 98.7. Rice not only thanked Sapp for sticking up for him, and lauded Strahan, but slapped Tiki Barber for sticking his nose where it shouldn't have been, Rice feels.
Booger McFarland: I agree with Sapp. I think you were one of the greatest pass rushers of all tiem and way better than Michael Strahan.

Simeon Rice: I felt mine [skills] is unparalleled. My skill level was unparalleled. You ask me a straight question, I this [Strahan] is great too. I thought his [skills] were really good. He had a great career, too. I felt like I was in a class of my own.

When I played, I played with a chip because I never got the respect I truly deserved. I always thought brilliance and greatness goes noticed but felt mine was associated with great talent, not hard work. "Stra" had a great career. I was different, a different breed.
As for Sapp pimping Rice both in print and on the NFL Network, Rice seemed humbled but also irritated by Tiki Barber.
"We weren't the best of friends," Rice said of Sapp. "One thing about Sapp is, although he seems like he is speaking out of the ordinary, he is speaking 100 percent real. The truth about football is the only thing important to him and he never did liked posers. If you balled, he would be the first one to give you props whether he liked you or not. I don't think Tiki knows the knowledge that Warren is coming with. A great mind."
As for how good Rice was, he said he would let the late, great Deacon Jones speak for himself. Rice talked about the time Jones visited the Bucs.
"He came into our meeting room and said, 'Where is Simeon Rice?' Then he told me, 'I love the way you play. Keep doing what you are doing.'"
What more street cred can a defensive end get than props from the greatest of them all, Deacon Jones? That's surely good enough for Joe.