Seeing Is Believing For Keith Tandy
June 12th, 2013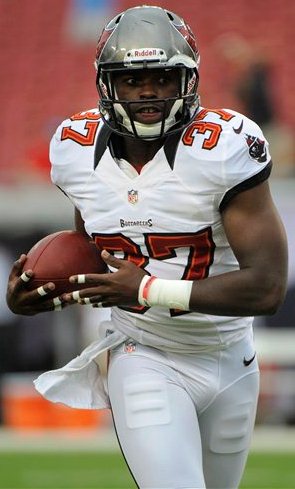 Second-year safety Keith Tandy is just like Joe in a way. Like Joe, Tandy has heard Bucs coach Greg Schiano talk about how he is going to pull back, be more observant and sort of take a more CEO approach to his second season as an NFL head coach.
That doesn't mean Tandy believes Schiano, a former secondary coach, will take a secondary approach to hands-on coaching this year.
"That is what he is saying but we will see when [training] camp starts up," Tandy laughed.
Tandy has noticed a big change in the secondary. Last year's defensive backfield was woeful at best, coming just a handful of yards away from setting a putrid NFL record for most yards allowed through the air. By adding star Darrelle Revis, All-Pro safety Dashon Goldson and another year of experience for Mark Barron and Leonard Johnson, along with the drafting of rookie cornerback Johnthan Banks, Tandy notices a big change in spirit.
"There's a lot more competition back there," Tandy said. "But guys are also a lot more comfortable. They are playing faster. And that has made everyone elevate their game and it will make our defense better."
It couldn't get much worse. The moribund pass defense was among the key elements why the Bucs, who were in prime position to make a run at the postseason, floundered in the final weeks of 2012.
Just having Goldson to bounce ideas off of and talk to has helped a great deal, Tandy noted.
"He is telling us about his [game] experiences in San Francisco and playing on a great defense out there. From playing so long and the things he has seen, what works and what doesn't work against certain offensive concepts," Tandy said. "The main thing [Goldson] adds is talking out there on the field, communication. When you communicate, even if the person in front of you knows what you are doing, you reinforce it and guys play even faster then."
Joe has now seen more than a few times how Goldson and Revis have worked with the younger defensive backs after practice for 20 to 30 minutes, going over fundamentals, ball tip drills and ball-handling drills. Coaches didn't order this; it is just a trait that both Revis and Goldson have, a commitment to excellence. This ethic has certainly rubbed off on the younger defensive backs.
This can only help the Bucs' secondary. It certainly couldn't hurt.