Schiano Says He's Doing Less Coaching
June 11th, 2013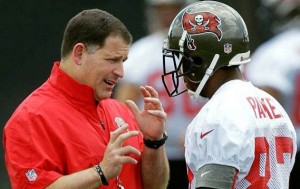 The leader of the New Schiano Order is acting more like a CEO these days, versus what he was doing last season at this time.
It's been somewhat noticeable to Joe at offseason practices that Greg Schiano is a bit more subdued and is having fewer moments where he pulls players aside for 1-on-1 lessons or group counseling.
Today, Joe asked Schiano about what's changed in his coaching, and Schiano said he's taken a step back. Even though he loves the hands-on, Schiano said, he must stay focused on all phases and the execution of the team mission through his coaching staff.
"Probably a little less. Just because everything, the vision of the program, you know the guys have had it for a while so I can kind of observe more," Schiano said. "It's fun to coach for sure, get your hands in there. But when you're coaching one guy, you're not seeing everything else that's going on. As a head coach, you need to be able to see the big picture. So, you know, it's a delicate balance."
Joe's pleased to see a guy like Schiano, who's known for being a headstrong micromanager, really embraces more of a CEO style of head coaching. Schiano's got a massive coaching and advisory staff, complete with big names and guys with Super Bowl rings. It's pretty clear he's eager to rely on his people and let them do what they do best.