Schiano: Revis Best Corner In 25 Years
June 9th, 2013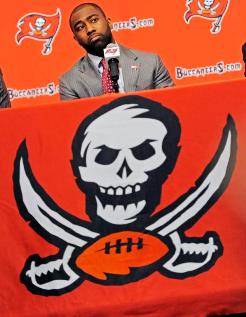 In his weekly column for the National Football Post, longtime NFL scribe Dan Pompei has a nugget on Bucs coach Greg Schiano and how head-over-heels Schiano is about Darrelle Revis.
Schiano, who was a defensive backs coach at Penn State and later with the Chicago Bears, studied Revis' tape before Bucs rock star general manager Mark Dominik grabbed Revis in a trade this summer.
Schiano, per Pompei, believes Revis is the best cornerback he has seen in a quarter-century.
Bucs coach Greg Schiano thinks Darrelle Revis is the best cornerback he has evaluated in 25 years. He referenced Aeneas Williams and Deion Sanders as others who were highly impressive because of their coverage skills. "Darrelle is all of those things," Schiano said. "He's big, physical, a cover guy, he'll tackle you. And he works his rear end off. His passion for preparation is something I love." He said Revis will afford the Bucs the opportunity to take a receiver out of a game and play 10 on 10 — not every snap, but some of the time. "That allows you to do some things," he said.
That's the thing with Revis. If he is healthy, he can cover a good chunk of the field. With two stud safeties like Dashon Goldson and Mark Barron further narrowing the field of coverage in some ways for rookie Johnthan Banks and reserve Leonard Johnson, that should make Banks' transition to the NFL much smoother.
Joe will be very anxious to see Revis in pads, as Dominik expects when training camp begins the end of next month.