Sacks Aren't Good Enough For Bucs
June 4th, 2013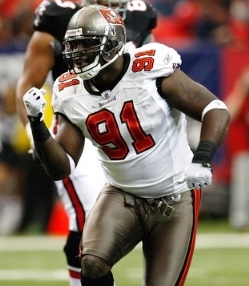 Of course, like in most of the NFL world, talk at One Buc Palace today was largely dominated by the passing of a true NFL icon, the great Deacon Jones.
The Bucs have invested several draft picks on defensive linemen over the past few years. One seems on the cusp of something huge (Gerald McCoy), and another has shown flashes of doing something when not hurt (Da'Quan Bowers). To them, Jones was sort of a pied piper of defensive linemen.
Though neither met Jones, they both were well aware of what he meant to the NFL.
"I didn't know him," Bowers said. "Of course, I knew of him. You have to know your history. I never had the opportunity to meet him. It would have been an honor. He's the reason we do what we do. Obviously, we all grew up watching him on NFL Films and I wanted to be just like him. Guys like that come around just once in a lifetime."
"He was so aggressive. Here was a guy who invented the sack. What more can you say about that? About the time he invented the word 'sack,' he had about 160. That says enough. A player of that caliber? A legend. Truly, a legend."
Yes, Jones invented the term "sack," by which all defensive linemen are judged. But that's not enough for the Bucs, Bowers explained. The team wants, and may need, more than just simply sacks.
"Around here, we don't say 'sack.' We say 'sack/fumble,' Bowers said. "We are trying to invent something else. Sacks aren't good enough. So we are trying to invent a sack/fumble. Of course, having guys like Dashon [Goldson] and Darrelle [Revis] in your pass secondary gives you so much – an extra millisecond to get to the quarterback means a whole lot."
It's a philosophy that has GMC on board. He wants to take what Jones established for defensive linemen, and take it a step further.
"A sack is OK," GMC said. "But when we get sacks, we want to get sack/fumbles. Coach Schiano doesn't even like sacks because he thinks all sacks should be sack/fumbles, which I agree with because a sack/fumble gives you not just an opportunity for a takeaway, but to score points. And that is the goal of the defense, to get the ball back."