Limiting The YAC
June 17th, 2013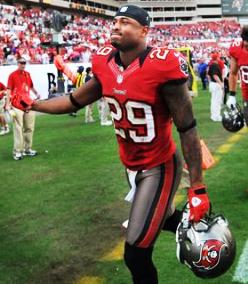 YAC is a wonderful term. And, no, it has nothing to do with the time Joe once got a hold of some rotten scotch.
For those unknowing of the acronym, it stands for "Yards After Catch." It is often used in offensive terms to judge how much of a home run hitter a wide receiver or a tight end may be.
But defenses use it, too. And in the case of one Bucs cornerback, it's a stat he will certainly want to reverse.
Recently, Joe shared that the numbers crunchers at Pro Football Focus believed Leonard Johnson may be a secret superstar. Well, the crowd at Football Outsiders, which is a kindred spirit of Pro Football Focus, broke out their calculators and determined that Johnson was the worst corner in the NFL for giving up YAC, so types Rivers McCown.
Johnson, per McCown, was targeted for big gains by opposing offensive coordinators. Receivers who Johnson were guarding were able to get downfield after the catch for an average of 7.3 yards per reception.
The interesting thing about McCown's story is it also lays out who the worst cornerbacks overall were using a variety of data, and none of the Bucs corners came in the bottom 10, though helmet-wielding, cabbie-slugging, Adderrall-popping, coach-cussing, referee-charging, pistol-friendly, granny-hassling Aqib Talib was third-worst, just behind Nnamdi Asomugha.
And to think there are still Bucs fans sore that Bucs rock star general manager Mark Dominik was able to thieve a fourth-round pick from Bill Belicheat for Talib.