Knee Problem Surfaces For Roy Miller
June 2nd, 2013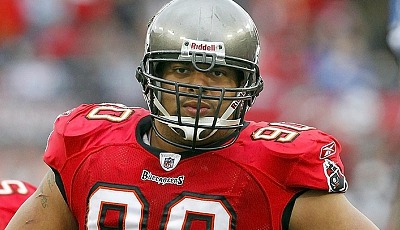 Joe's a been a bit harsh with the Bucs regime for not re-signing Roy Miller. Why? Miller came cheap, and the Bucs raved about him and called him "custom-built" for the nose tackle position.
So it seemed like a no-brainer to Joe to keep Miller and not mess with the No. 1 ranked run defense. (Miller came off the field on most passing downs.) But it new light has been shed on the situation.
Miller is hurt. He missed the Jaguars' first five OTA practices with tendinitis in his knee. And it wasn't a new injury, Miller told Jacksonville.com recently.
"We've been slowly bumping up everything, from conditioning to lifting weights. I'm feeling a lot better than I played [in Tampa Bay] with it last season," Miller said. "I really believe in the training staff here and they've got a great plan for me."
Joe already knew Miller played through back problems, weight problems, and a torn MCL during his time with the Bucs, and now knee tendinitis can be added to his Tampa Bay woes through four seasons.
Much like Michael Bennett, who was revealed to have a major shoulder injury after he signed in Seattle, Miller is damaged goods.
This doesn't mean Miller — or Bennett — won't be very effective football players  in 2013 (just like the Bucs expect injured Darrelle Revis to return to $16-million-a-year form). But it does give Joe some fresh perspective on the decision to wave goodbye to Miller.