Knee Confidence Surfaces Again
June 10th, 2013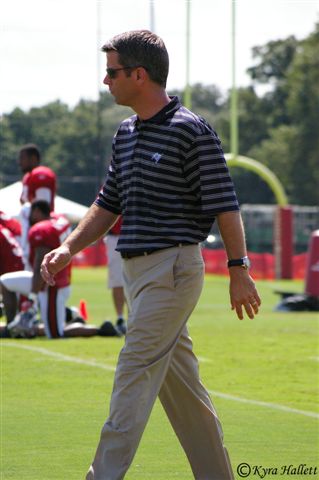 It's been two years since rockstar general manager Mark Dominik was a guest on The Jim Rome Show and told a national audience that the Bucs' medical staff knows knees, isn't scared of knees, and can manage the nastiest knees in the business.
It's not just talk. There's plenty of track record there for team trainer Todd Toriscelli and his award-winning staff.
The Bucs squeezed 48 consecutive games out of Kellen Winslow's torn up knee, guided a truly stunning comeback (twice) of Cadillac Williams' horrific knee injuries, and intelligently passed on Antonio Bryant in free agency (the Bengals weren't as wise). There were other success stories, as well. And the Bucs are counting on Darrelle Revis' successful knee rehabilitation, and on the damaged knees of Adrian Clayborn and DaQuan Bowers, who scared off the rest of the NFL on draft day with his bad knee.
Joe noted in passing earlier that this well known knee bravado likely was a big piece of the Gabe Carimi trade puzzle. Guard-tackle Carimi, who the Bucs dealt for last night, had serious knee issues since early in his rookie year in 2011, after being selected by the Bears in the first round of the NFL Draft.
Joe's not sure whether longterm it's a good or bad thing that the Bucs are so confident in guys with bad knees. This season surely should answer that question.