Johnthan Banks Knows His Bucs History
June 30th, 2013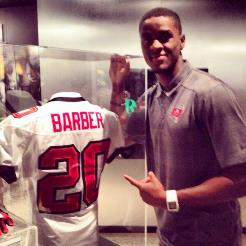 OK, it's a light, lazy Sunday evening where Joe is celebrating a sweet Rays series win. Thus, Joe thought he would bring something light and bright, a feel-good to Bucs fans.
This week, NFL rookies took part in the NFL rookie symposium where they were taught about how to save cash and how to stay out of trouble, yada, yada, yada. Joe is a bit skeptical how much these programs actually work. Year after year there are countless stories about former and current NFL players going broke and/or having brushes with the law. Joe will save that argument for another day. Today, something cool.
The NFL brought the rookies to nearby Canton, Ohio, to visit the Pro Football Hall of Fame. There, in a display to honor former Bucs cornerback (man, this sounds weird) Ronde Barber, Bucs rookie Johnthan Banks found Barber's display and took a moment to pause for a cool picture (seen in this post above) of Bucs past, present and future intersecting all at once.
If Banks can be three-quarters the player Barber was, then the Bucs truly will have hit a home run with their second round pick this year.
All the best to Banks as we are now just 25 days away from the Bucs' first training camp practice.
We are getting there, folks.